They were great to work with. Easy going, great sense of humor and very in love. The ceremony was at Immanuel Lutheran in St Paul, with the reception at the Science Museum (in the Elements Cafe). The weather was hit or miss that day, showers were blowing by every now and again, and it stayed cloudy (and
incredibly
humid) all day. Before the reception, the they were able to sneak off to
Mears
Park in downtown St. Paul for a few private shots.
The bride and her mom waiting for the ceremony.
Guess who forgot his socks? The groom.

Taking a moment to read the card from his wife to be.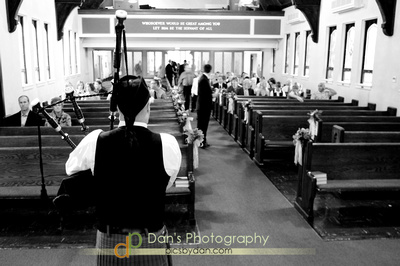 I told Michael that his face wasn't in the shots, so he could just relax. He preferred to make funny faces... so I had to get a few of those as well.